This site uses cookies. By continuing to use this site, you are agreeing to our use of cookies.

Learn More.
Unofficial Steven Seagal
From Steven Seagal's official FaceBook page.
Best wishes to Steven Seagal and team from all at Unofficial Steven Seagal. Cannot wait to see the new website.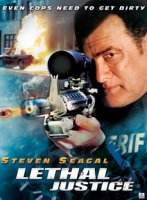 The next DVD release of the
True Justice
series is being released on 26th December 2011. Thanks to Paul Brown for the notification.

PRE-ORDER HERE
Anchor Bay Gets Rights to Steven Seagal-Steve Austin Action Movie
Anchor Bay has acquired the distribution rights to
Maximum Conviction
, an action movie stawrring
Steven Seagal
and
Steve Austin
.
The deal includes U.S. and Canadian theatrical and home entertainment rights and was struck with Voltage Pictures.
Directed by
Keoni Waxman
, the story sees the action duo as private security contractors decommissioning an old prison. When two mysterious female prisoners are forced to stay there one night, the facility comes under siege by a force of mercenaries, with our heroes forced to stand against the mercenaries and find out the reason for the assault.
Seagal, Austin and
Phillip B. Goldfine
produced the movie.
Nicolas Chartier and Nadine de Barros of Voltage Pictures are repping the international rights.
http://www.hollywoodreporter.com/heat-vision/anchor-bay-steven-seagal-steve-austin-274753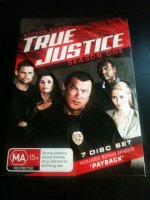 Hi all,
I'm new around here and thought I would show some photos I took of the newly released Australian box set of True Justice.
It's the complete series run, including Payback, over seven discs. There are making of specials for each film except the last one, trailers, Seagal music and more!
The set can be found in shops for $30-45 depending where you look. Considering ONE episode disc is around $25-30, this is amazing value. I am glad I held out until all episodes were individually released as I just knew they would release a box set at a cheaper price... just not this cheap!