Whilst we're waiting for news on new Seagal movies, I thought it might be cool to see some behind the scenes pictures (or stills from deleted scenes) from his back catalogue?
Here's one I found from HARD TO KILL (which I guess is at O'Mally's funeral?) Seems like a fairly elaborate (and costly) scene to have been editted out?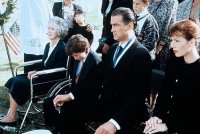 Does anyone have any more?