Plot:
Matt is an elite ex-cop whose life has gone down hill since he was kicked off the Force. After a rough encounter with a mysterious henchman, Matt is brought face to face with his only chance at reclaiming his life and clearing his gambling debt markers. Only after he gets started on his new tasks does he recognize good guy from bad. Meanwhile Matt's love for his only daughter helps him battle one of his greatest enemies, alcoholism.
Release Dates:
Canada + USA - 4th March 2008
Sweden - 12th March 2008
Brazil - 30th March 2008
UK - 5th April 2008
Budget:
$10 million USD

Box Office:
Filming Dates:
7th May 2007 - 1st June 2007
Filming Locations:
Bridgeport, Connecticut, USA
Norwalk, Connecticut, USA
Stamford, Connecticut, USA
Trailer:
Reviews:
Forum Reviews
DVD Talk
Fakes.net
The Action Elite
Links:
IMDB
Roel Reiné
- Official site.
Covers / Posters: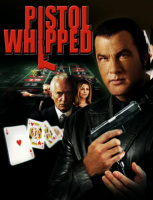 Support The Site:
Amazon UK