Plot:
Orin Boyd, a tough cop in an inner-city precinct discovers a web of dirty cops and corruption.
The Book:
Exit Wounds movie is based on the best selling novel of the same name by
John Westermann
. I have finished reading the novel and recommend it to anyone. The novel varies quite a bit from the movie, the novel is darker! John Westermann has also written a second Orin Boyd novel - The Honor Farm. I've just started reading this novel, but it looks very good.
Synopsis Of Novel From Amazon:
Soon to be made into a major Hollywood movie The Lucky 13th is the last stop for cops like Orin Boyd, the dumping ground for misfits and malingerers to which he's been assigned as a disciplinary transfer. In the most rotten precinct in Long Island, most newcomers don't last long as the guys don't trust outsiders. Little wonder since leaked information, protected criminal operations, mislaid evidence, and even the occasional murder are the order of the day. Somebody is servicing the local hoods from the inside, and it's his job to find out who and why. The only problem with Orin Boyd is that he's not exactly the Wyatt Earp type himself - a burnt-out cop bitter over a broken marriage, verging on alcoholism, and carrying a reputation as an unreliable maverick. Can he resist the temptation for the easy gains of corruption, or can he rediscover the spark that made him want to be in the force in the first place?
Review From Amazon:
This dark and funny cop novel by a cop is the basis for the hit movie starring Steven Seagal. The first in a series, followed by The Honor Farm. Not for the faint of heart.*****
Purchase:
Exit Wounds by John Westermann

Budget:
50 million USD
Gross:
80 million USD (worldwide)
Filming Dates:
11th August 2000 - 19th November 2000
Filming Locations:
Release Dates:
USA - 13th March 2001 (premiere event)
USA - 16th March 2001
Singapore - 12th April 2001
Australia - 19th April 2001
France - 25th April 2001
Spain - 27th April 2001
UK - 27th April 2001
Ireland - 27th April 2001
Belgium - 2nd May 2001
Switzerland - 3rd May 2001
Germany - 3rd May 2001

Trailer:

Reviews:
Forum Reviews
DVD Talk
Fakes.net
Links:
IMDB
Covers / Posters: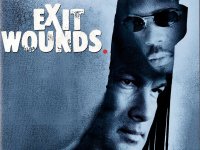 Support The Site:
Purchase from Amazon UK
Purchase book from Amazon UK