Feature - Action
Release: December 9 2016 ( VOD and Limited Theatre Release)
Actors: Steven Seagal; Russell Wong; Jemma Dallender
Director: Keoni Waxman
Synopsis:
Special Agent John Harmon is called back into action when the CIA stumbles upon evidence that a dangerous group of extremists is planning to join forces with a drug cartel. He assembles a high tech team of operatives and devises a daring operation to turn the two groups against each other in an explosive confrontation.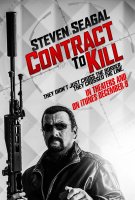 Guys,
I had a chat with Keoni Waxman and he confirmed this:
I'm about to start our next Seagal film in about a week. It's set in Mexico and Istanbul and at the moment it's called 'Contract to Kill'. Getting excited about it - Steven's co-star is Russell Wong and we are working with Ron Balicki again so look for some cool knife fights. We've also made a few changes in our approach to the films so I think it'll look very different than EOAG (as well as 'Killing Salazar'). All a good thing.
Last edited by a moderator: